Light of life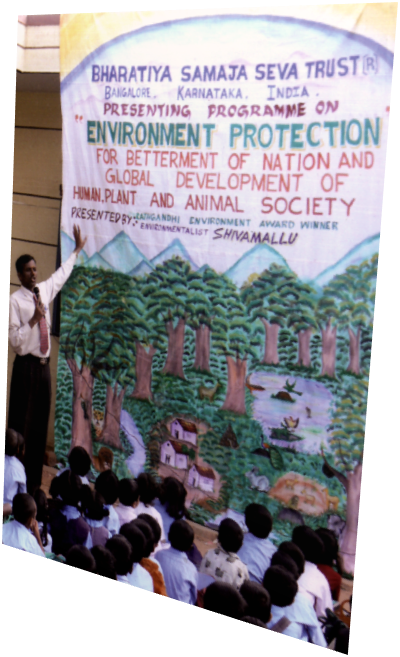 Bharatiya Samja Seva Trust® is a non-profit public charitable Trust which striving hard for the comprehensive well being of Human, Plant and Animal society and the one that endeavors to promote Knowledge, Health, Peace and Harmony to protect and maintenance clean and green environment towards 'Save Earth to Save Life' mission.
Before the environment pollution devastates the world, let us join our hands together for protection and maintenance of clean and green environment for the plenty and prosperity of mankind.
Nature enfolds in itself, man, plant, animals, sun, moon, sky, earth, air, water, soil, forest wealth, mineral wealth, aquatic wealth, ozone layer in the cosmos etc. These are the great gifts of God to all the living beings on this earth.
In nature, there are air, water and food chains, which maintain the balance in their existence. The balance should well be protected or else the imbalance paves way for decay or otherwise it spells disaster. This also means the forest wealth, water sources, animals and birds should be protected. So, we must devise a way to save these elements of environment from destruction, which are the valuable gifts bestowed to survival of Human, Plant and Animal society by almighty.
The process of the protection of environment should be passed on from generation to generation. From this point of view, man has a great responsibility to harness environment particularly, in the preset context of the high tech world.
God has created a cyclic order in nature, which maintains a balance within itself. Man, who is a prime element, knows this factor. Yet, sometimes he disturbs this balance by meddling nature. He also knows that such an act is harmful to him and as well as to other living beings. So, it is imperative and a high time that we should realize the importance of saving the balance in nature.
Sun light, air, water etc., are instrumental to the very being of flora and fauna. This is a natural order. If there are ripples of disturbance, there is agitation in both plant and animal life. This need not be over emphasized. Man is being subjected to diseases such as cancer, asthma, blood pressure, heart ailments etc., as a result of pollution caused by industries, automobiles, garbage's and so on. More often, man fails to manage water sources, which leads to scarcity of plant life and in turn puts the very life of man into jeopardy. This water mismanagement has multi faceted complex implications.
Agricultural lands and pastures are being reduced in recent years and they are being utilized for human inhabitation, building industries and the like. Deforestation has led to the scarcity of rain, crops, medicine, paper and other items of forest wealth. As a result of this deforestation, plant and animal life is facing a threat to its existence. Besides this, man's psychological, sociological and economical planes have been shaken. Thus, the very progress of any country or a society at large is hindered.
In case something is not done to save the environment, if we still walk blindfold as ever, it is really impossible to think of a radiant future, let alone for ourselves but even for the tender
generations yet to emerge. It seems we have already reached a situation, which sends a chill through our hearts as we imagine the immediate days ahead of us.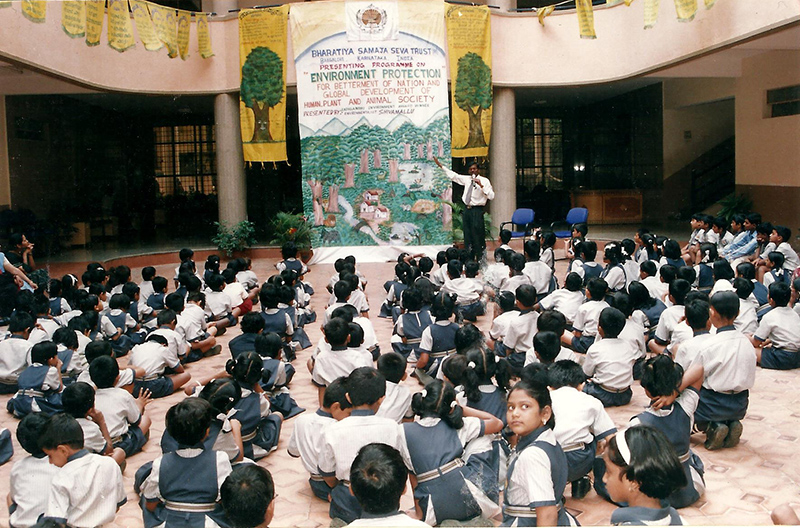 It is in this backdrop that Bharatiya Samaja Seva Trust® has emerged under the guidance and leadership of Social thinker and Noted Environmentalist Shivamallu based on his article "Gnana Chintane" – "Social Service a necessary – Why ?" which has a clear 'Thought Plan' of him. He thinks that it is highly desirable to preserve air, water, soil, ozone, forest wealth, marine wealth, mineral wealth etc., and so endeavors to establish Knowledge, Health, Peace and Harmony by way of creating environment protection education, awareness and service programmes.
It was due to the sad demise and memory of his beloved mother Smt. Jayamma who suffered from throat cancer this Social Worker and Environmentalist took up this ordeal of Environment Protection Services. It is also a matter of fact that cancer is caused by air pollution. So, the Trust in this background envisages and surges ahead to create Environment Protection Awareness by understanding, what is environment? What is environment pollution? How pollution is generating in environment?, What are all the adverse effects of pollution?, What are all the actions / precautions to be taken care for its preservation? etc., among students, youth and women in particular, masses and public in general.
The Trust for the past years 2000 has been earnestly trying to enlighten students, youth, citizens and women through conducting / organizing of various types of seminars, camps, rallies, bird watch, nature watch, essay competition, drawing competition, plantation, distribution of saplings etc., under different Eco-Projects based programmes to effect a revolution in this ordeal of protection of environment. It aims at establishing Knowledge, Health, Peace and Harmony in a Global society through protecting environment.
More than 2500 Eco-Protection Project based programmes have been organized so far under different movement. In this direction we are looking forward for your encouragement, support and participation by all means in the affirmative.